Tinsel Turnout Dressage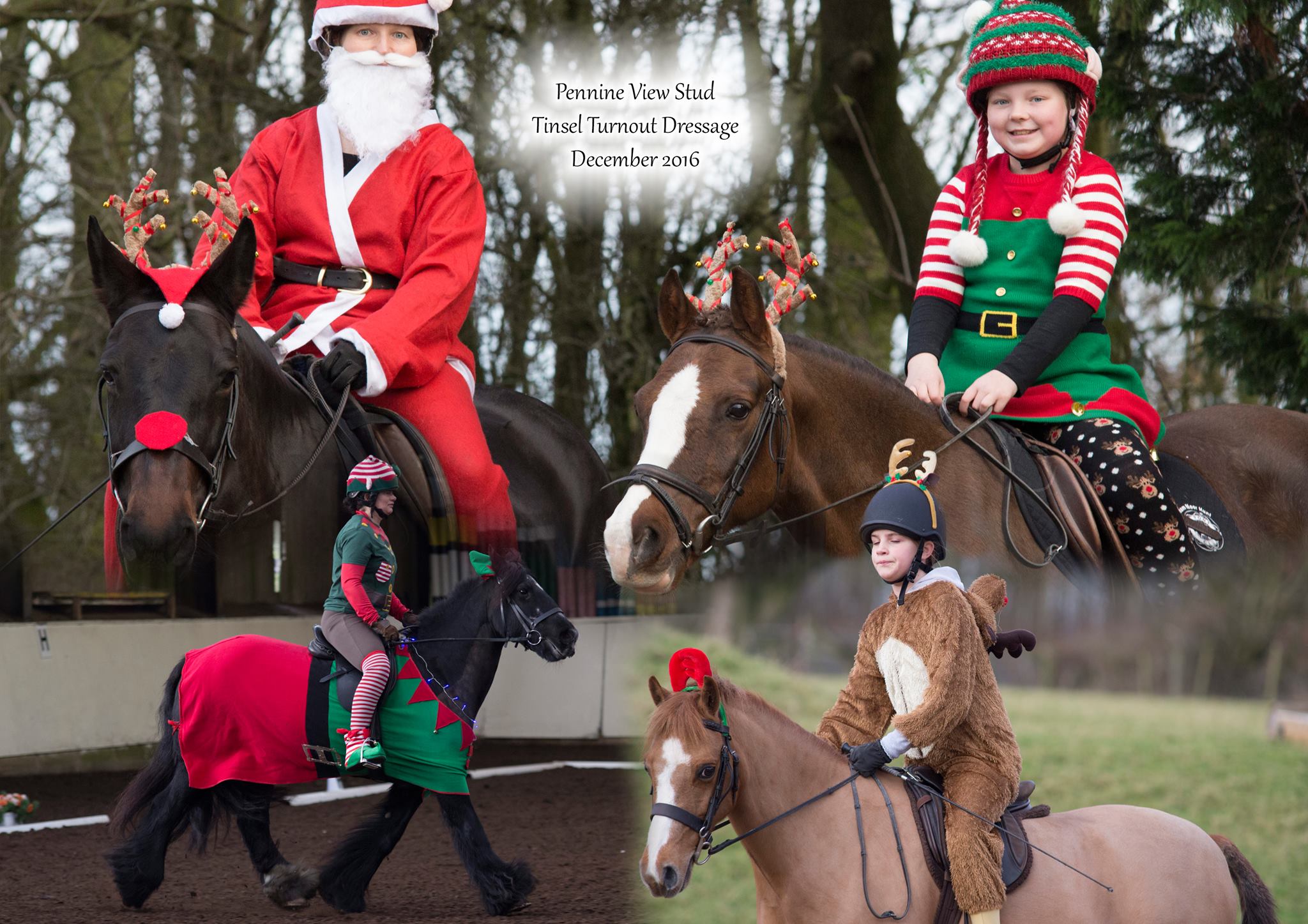 Whether you are a regular dressage diva or looking for a fun winter event- all horse owners in North Yorkshire should be squeezing this event into their horsey diaries! We have attended this event on several occasions and it gets better every year.
This event supports the Yorkshire Air Ambulance, a charity which Pennine View Stud are very supportive of. This event alone raised a fantastic £337 to be donated to the charity.
The Tinsel Turnout event, organised by Pennine View Stud, invites you to compete in an unaffiliated dressage event in your most festive outfits. Not only is this great for getting in the Christmas spirit there is also an abundance of fabulous prizes for those who have scored the highest! Pictured is one of the tinsel turnout winners Michelle Bell riding Belle.
As well as huge boxes of chocolates the best Christmas Turnout winners were also gifted vouchers for portraits from the talented C Aisling Artist.
www.facebook.com/caislingartist
Outfits this year ranged from christmas jumpers to a classy touch of sparkle whilst in the usual dressage attire all the way up to elves and fairies! The event was so well attended this year that over a few hours of the day two rings were running. In addition to this, the event ran from 9am to 5pm.
The Yorkshire Riding Centre boasts 2 indoor arenas as well as a great outdoor surface. This allows competitors to warm up inside in the event of bad weather, however for this event the weather was beautiful- as you can see in the photographs.
The highest scoring test of the day was ridden by Beth Harrison- 74.09% to win Prelim 7 sponsored by The Golden Paste Company (www.goldenpastecompany.co.uk).
Beth and Harry also won Intro B sponsored by GNL Skip Hire (www.gnlskiphire.co.uk)

You can find all of the images from this event at: https://amygriffithsphotography.instaproofs.com/gallery/#events/1449206
You can find all of our personalised items at: www.hoofprintsltd.co.uk
---